The
Settlers III Tower
---
---
Welcome to the Settlers III Tower! Here we will try to keep you constantly updated on the realm of the great S3. If you have any comments, questions, suggetions, or complaints, just email me at victordu@excite.com.
---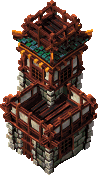 What is Settlers III? Settlers III is the newest game on BlueByte's Settlers titles. With superb graphics, sounds, and gameplay, Settlers III is worthy of being one of the greatest real-time strategy games available on the market. In S3, you command one of three tribes: Romans, Asians, and Egyptians. Your goal is of course, domination over other tribes. But along the way, you must gather needed resources, you must build heavy artillery pieces and you must build the greatest army. Besides all of this, a strong economy composed of many workers must back your military efforts up.
---
Visitors since April 16th, 1999
---
Email:victordu@excite.com
---
&copy 1999 Victor Du. Settlers III and Settlers are trademarks of BlueByte, Inc.